Shopify is one of the most renowned e-commerce platforms for online stores today, and for good reason. Starting an online business is now as easy as can be; if you were to demonstrate Shopify to someone from even a decade ago, you'd probably see them flip out at just how intuitively everything works.
To help you optimise your processes and make the best site for you and your prospects, Shopify offers a host of apps in their app store. You can use these to automate certain processes and add nifty little features and elements to your web pages amongst other things. Today, we're going to discuss some great Shopify Store app examples that you could consider for your online business.
However, before you start browsing through the app store, you should keep at least your short-term goals with your online store in mind. This will help you get a clearer picture of the kind of apps you genuinely need on priority. These goals could be related to your:
Customer acquisition: When you want to acquire new customers you haven't sold to
Customer retention: When you want to increase repeat purchases
Increasing conversions from a particular device: Have you noticed that your conversions are higher for mobile users over desktop users? If so, you should set a goal to increase conversions for desktop users
Increasing awareness of your store
Increasing sales holistically
These are goals often set by online store owners. Yours could look completely different from these, and that's perfectly fine. There are a ton of Shopify Store apps to help you get to your goals quicker. Here are some of my favourites.
Klaviyo claims to be the #1 e-commerce marketing app in the entire Shopify app store. I'm not sure about this, but the app itself is exactly what you want out of an email and SMS marketing platform for your online business.
Now, if you're only planning on sending out bulk emails, I wouldn't recommend Klaviyo, because simply, it isn't the cheapest marketing platform. However, I urge you to attempt some level of customisation for better-performing campaigns, and for this purpose, Klaviyo works wonders.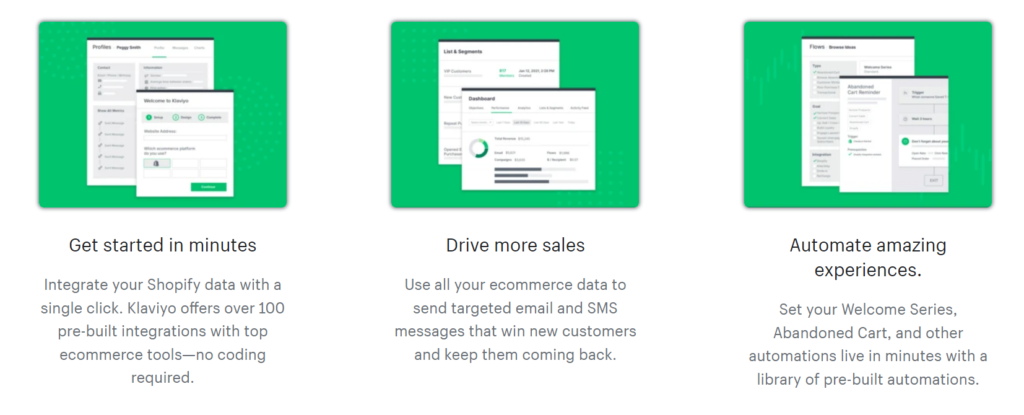 On Klaviyo, you can segment your audience on the basis of order history, value, location etc. and customise/automate emails for each segment. Building an automated workflow is also easy because of the app's intuitive drag-and-drop editor. Plus, you can use the app to add dynamic, attractive forms to your website increase your email list.
The pricing depends on the subscriber list, but the free plan covers 250 contacts and 500 emails. You'll pay more as your contact list grows.
You'll know that product/service reviews are super important for online businesses, and for so many reasons. Most importantly, it helps reduce a lot of the buyer uncertainty that is present when making purchases without the touch-and-feel aspect.
If you want to build recognition and trust, encouraging your customers to put out genuine reviews is a great first step of doing so. For this purpose, you should consider Loox.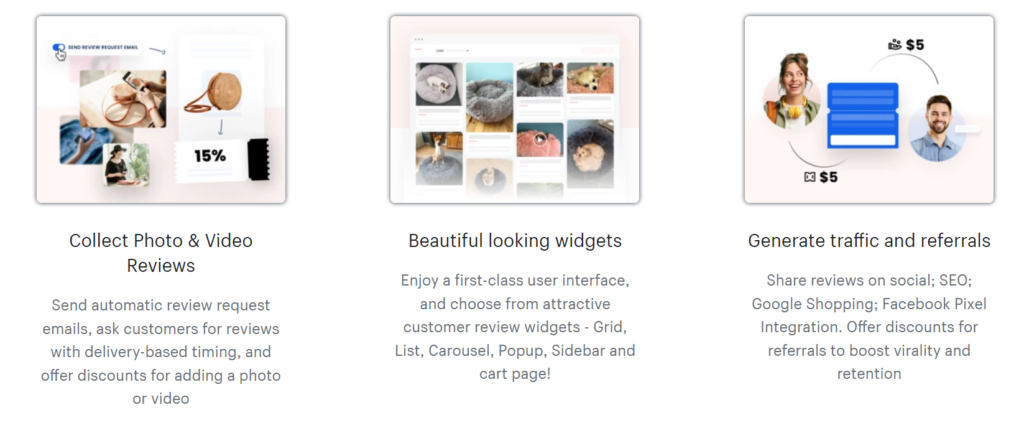 Loox essentially gathers product reviews using high-quality review request emails that can be customized for each customer. There are smart ways of acquiring these reviews. For example, by offering a discount for detailed reviews. Review request reminders can also be set up by you as per your convenience.
Not to mention, Loox makes the reviews section of your website actually look good, rather than having it just as a component. Here's what it looks like in its cheery 'grid layout' (note that you can also use a cleaner, more minimal 'list layout')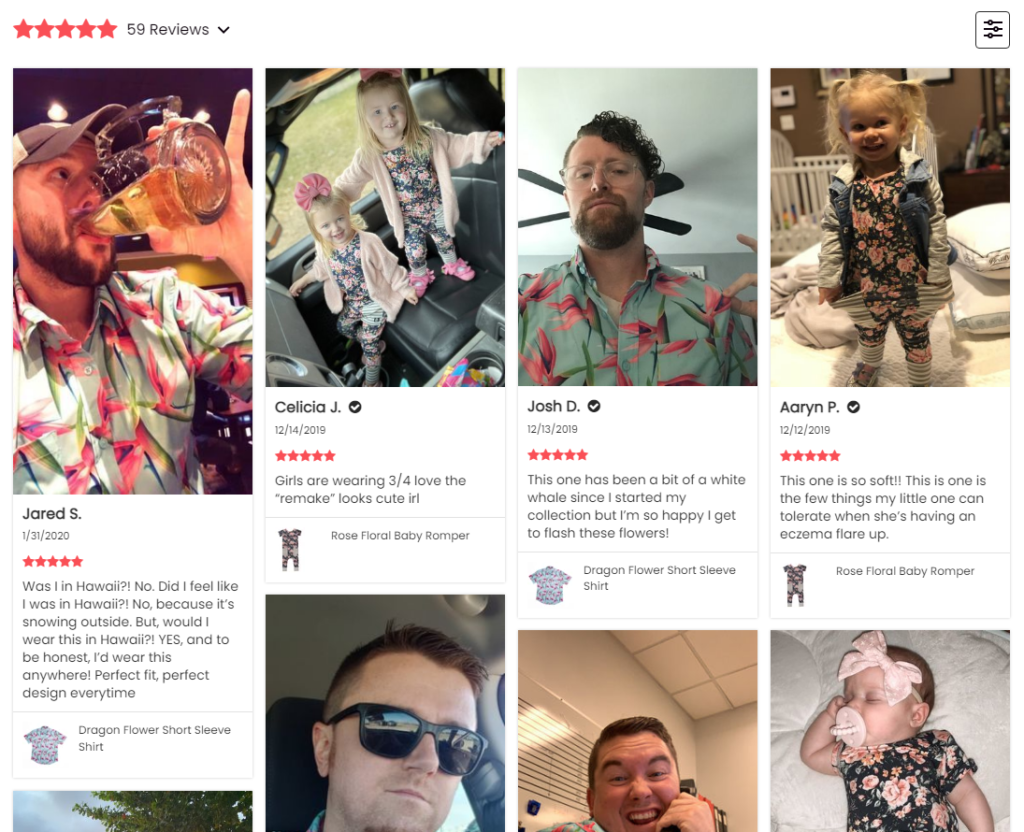 You'll be hard-pressed to find a more compelling app to acquire reviews, than Loox. Plus, for $10 a month, it's almost a no-brainer; you'll generate a very healthy RoI using Loox.
Pro-tip: To get initial reviews, send products to friends and family in exchange for reviews. This might give you just the headstart you need for your product sales to take off.
If retaining customers and building customer loyalty is something you want to focus on for your online business, Smile should be something you consider. This Shopify Store app lets you build an appealing loyalty/rewards program that will encourage your customers to make repeat purchases.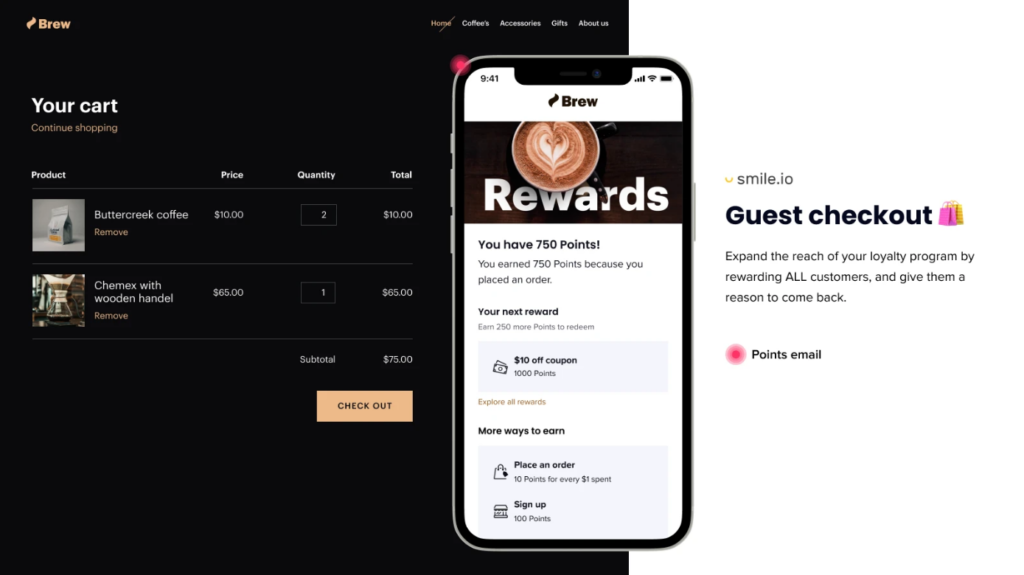 There are various ways in which Smile can help you increase your retention. For example, your customers can earn points for various actions like signups, referrals, orders, leaving reviews etc. Of course, these points are redeemable in future orders.
You can also easily monitor referral traffic and sales using customised referral links generated for each individual customer. All these analytics are available completely in-app. Lastly, you can decide to introduce an exclusive VIP program, where your best customers can be provided with unique perks and offers.
A solid loyalty program, combined with a proactive email marketing strategy should do wonders for your customer retention.
Return Magic
Product returns are one of the biggest drawbacks of selling products solely online. According to recent statistics, e-commerce return rates hover between 20%-30%. For apparel/shoes/accessories, this number is estimated to be way higher.
Returns are bound to happen, so it is best to have a system in place beforehand, that's effortless for you as well as your customers. Goes without saying, having ANY return system in place increases confidence in your products.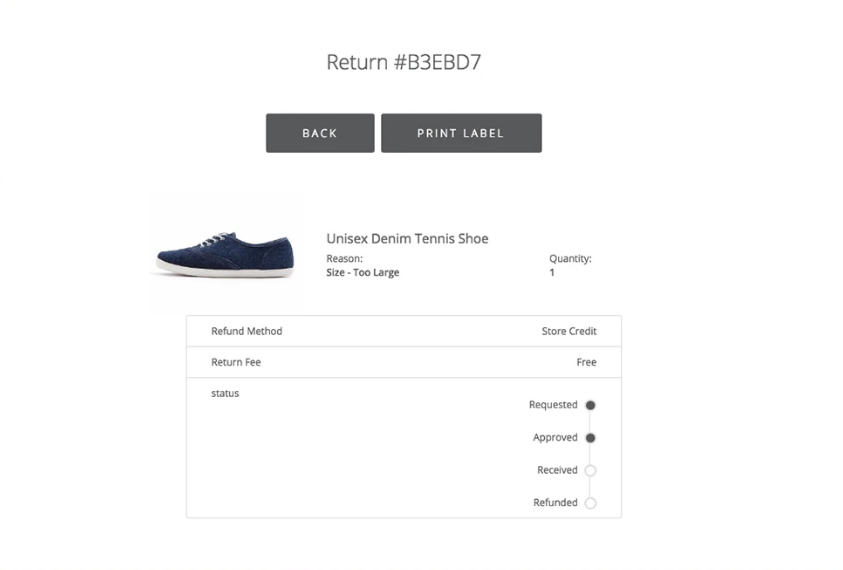 Through Return Magic, you can create your own customised return portal. You can provide your consumers with a choice of refunds (original payment method, gift cards, exchanges). Of course, you have access to detailed analytics as well, regarding the products that are being returned often, and the most preferred modes of refunding.
Are you experiencing a high cart abandonment rate? Or simply not getting the conversion rates you're hoping for? Privy, one of the most used apps in the Shopify store may just be able to get you out of this.
Apart from email marketing and SMS tools, Privy has a host of tools, popups and banners specifically designed to increase conversion rates.
As far as popups go, these are some of the least intrusive, and most aesthetically pleasing ones in the business. you also have a lot of options with spinning wheels, banners, announcement bars, flyouts etc. As you can see, the spinning wheel below is customisable to blend in with other elements of your webpage.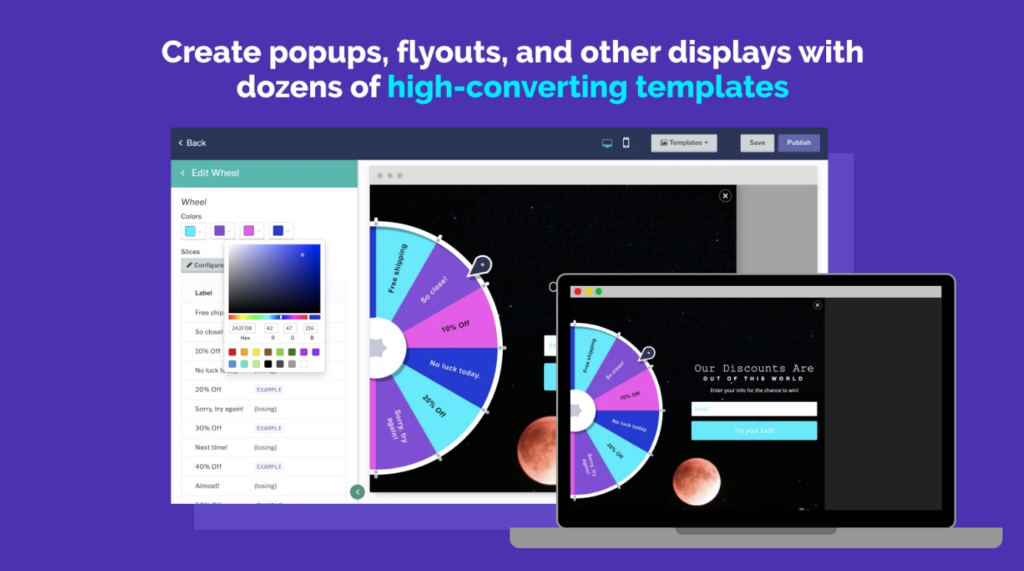 With Privy, you also have an advanced targeting option for your popups. This ensured that the popups relate directly to the particular user's activity, and aren't annoying or distracting. Lastly, you can set up emails and SMS campaigns to automatically remind people of their abandoned carts, or even offer incentives like discount coupons.
The 21st Century consumer is more inclined to buy from brands that are socially responsible, largely because we are more aware of the pressing matters regarding climate change, development, discrimination etc.
Give and Grow is a donations Shopify store app with an extremely robust database of charitable organisations. You can pick up to 12 charities and NPOs that you wish to support. Then, you can either let your customers choose the organisation they want to donate to or equally split your funds between organisations. The donations option on checkout is dead-easy to add with Give and Grow.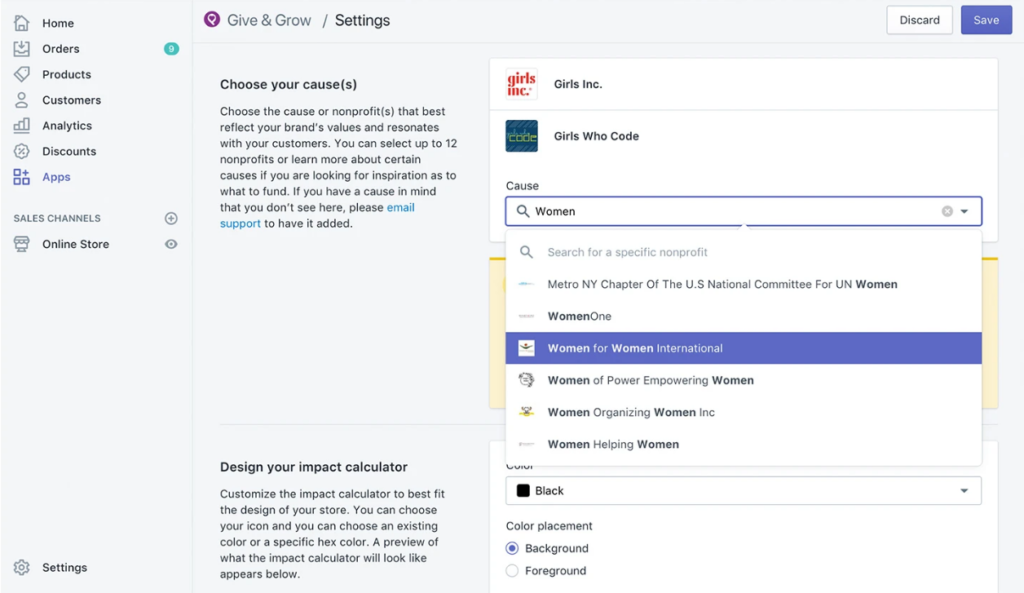 The app also claims to be the only donation app to demonstrate the real-time impact caused by your donations to the organisations of your choice. It's also incredibly efficient, with reports of each donation and downloadable tax documents.
This app may well have the most uninteresting name out of this bunch, but it does exactly what it says it's going to do. If you've shopped online, you'll know how important filters are, to find just what you're looking for.
With this Shopify Store app, you can add custom filter trees to your collections and search result pages. These can be related to product availability, size, gender, brand amongst other aspects (yes, even the "price: low to high" can be implemented with this app).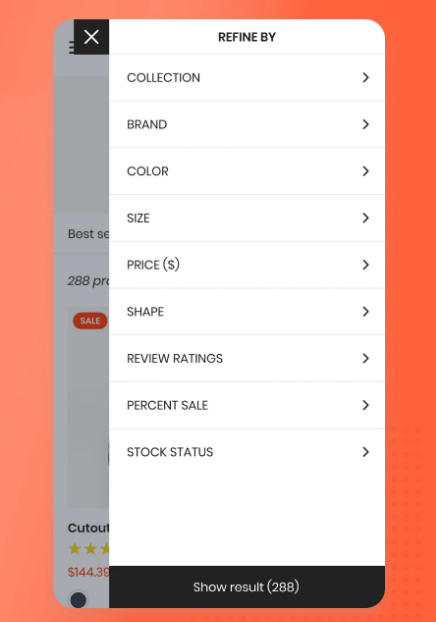 But that's not all. You can also implement a smart search bar to help your website visitors find what they're looking for. This search bar is equipped with autocorrect and spellcheck, understands synonyms, and can also return results based on analytics.
These are the two main features of Product Filter & Search, but the app can do a lot more. It is full of nifty little tools to help you up-sell, cross-sell, and improve the general user experience.
For online businesses with large product catalogues, this is a must-have!
---
Shopify's app store is full of apps that will make valuable additions to your online websites. The ones covered here contain the essentials that should bring positive changes to your performance and key metrics and help you reach your goals quicker! Have you used other apps that have worked well for you? Let us know on our socials!
New to e-commerce?
Shopify store apps undoubtedly work great to optimise the performance of your website. However, don't forget to have a social media presence to draw traffic to your website! A lot of Shopify stores I've researched have dormant social media pages, which is just a huge missed opportunity.
To create quality social media content fast, I'd recommend trying out Predis.ai. There are three main ways in which this app assists you in developing social media content:
1. Post creator:
As a Shopify app, Predis.ai can add products from your website as inputs to create beautiful social media posts around them.
After this post has been generated automatically, you can choose to edit several aspects of it within Predis.ai itself i.e. the caption, hashtag and creative. In the 'Suggestions' tab shown below, you also get insights on your created post's expected performance, based on your account's history. As solopreneurs or creators, this will save you a LOT of time spent ideating for post ideas.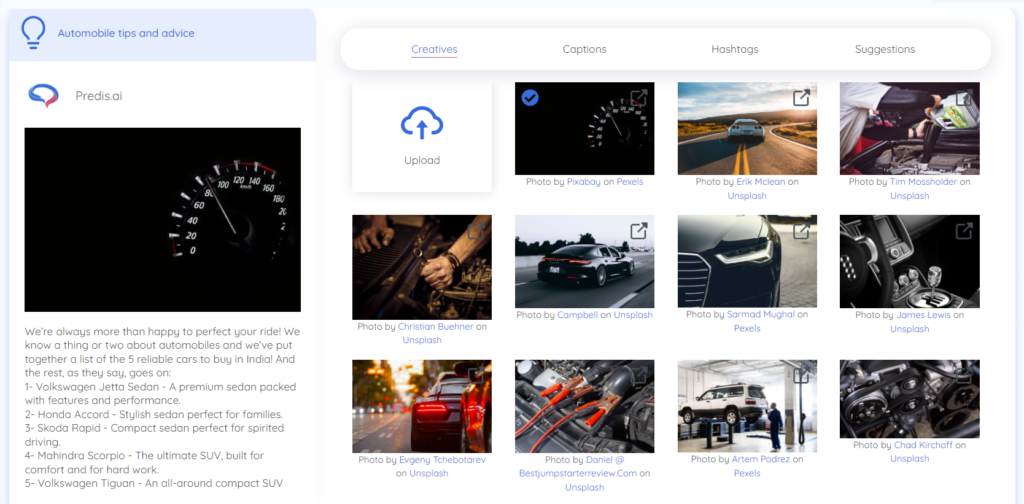 2. Content calendar:
You can conveniently view all your posts through a built-in content calendar. These can be sorted by a 'month' view (as seen below) or a 'list' view. All your posts created on Predis.ai can be easily viewed and edited on this interface. The content calendar will also ensure you stay on track to fulfil your social media obligations and keep making quality posts that draw traffic to your website.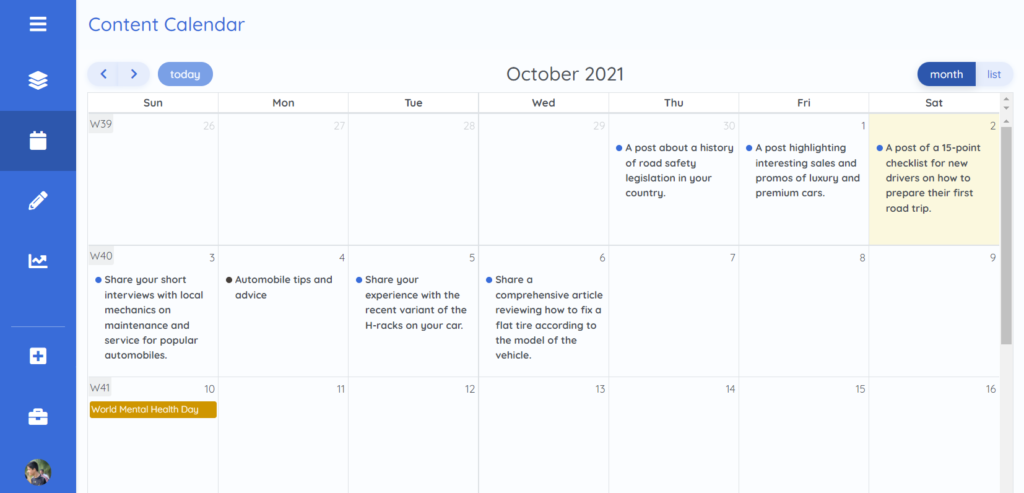 3. Content analysis:
Looking outwards, and towards other handles can give you amazing insights on what content you should ideally be posting. Predis.ai lets you effortlessly analyse how your competitors' posts have been performing on Instagram. Through this, you can easily find out what content is performing well for them, and what isn't clicking within their audience. A great feature, if you're looking for content that will be popular amongst your target audience, and for straying away from content that won't.